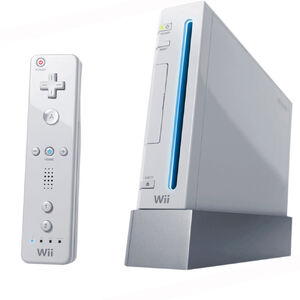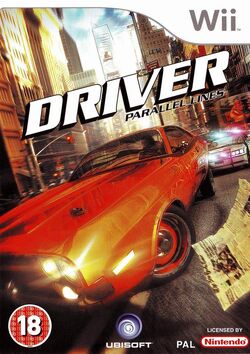 The Wii is a gaming console made by Nintendo, and is their main console. Driver: Parallel Lines can be played on the Wii with a Wii copy of the game.
Description
Edit
The Wii offers powerful performance designed to be aimed at a younger audience of players. As a seventh-generation console, the Wii competed with Microsoft's Xbox 360 and Sony's PlayStation 3.
Driver: Parallel LinesEdit
Driver: Parallel Lines was released on the Nintendo Wii on June 26, 2007 in North America, June 28, 2007 in Australia, and June 29, 2007 across Europe. The edition of the game differs majorly from the PC and Console ports of the game, in that it was specially optimized to function with the Wii Remote supplied with Wii consoles. Like other Wii games, Driver can also be played using the Wii Wheel.
Generally, the only notable differences are noted in the HUD of the game. It can be seen that the curved Heat bars found around the Speedometer and Mini-Map are removed, and in replacement, separate rounded rectangle, containing 5 stars, which symbolize the heat. These bars are found underneath the Speedomter and Mini-Map, and are marked with a driving steering wheel (left) and a silhouette of a person (right), representing driving heat and on-foot heat, respectively. The speedomter itself has also been simplified, replacing the original "N" for Nitro with a Nitro canister. The numbers are in a slightly larger font and the slider has been enlarged. The Health level at the top right has changed from a number into a bar.
Other changes to the gameplay are
The variations of traffic; traffic density is much lower
Render distance is decreased compared to other platforms.
The camera angle for vehicles is slightly higher.
The gun marker symbol is different.
The Paramedic spawns with a different livery, wherein the PC, Xbox and PlayStation 2 versions' stock-livery cannot be obtained.
Community content is available under
CC-BY-SA
unless otherwise noted.