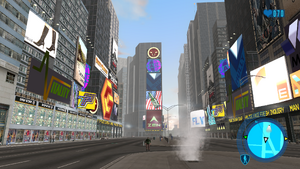 Times Square
is a major commercial intersection and neighborhood in
Midtown
,
Manhattan
,
New York
, appearing in
Driver: Parallel Lines
.
Description
Edit
The complex consists of the iconic Broadway and 7th Avenue intersecting. The two roads, each 6 lanes wide, meet together in Midtown, surrounded by a large amount of commercial buildings, high rise apartments and skyscrapers. The landmark appears with the iconic bright lights, billboards and advertisements, as well as the two main buildings; One Times Square and Two Times Square, appearing at either end of the intersection.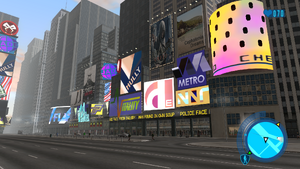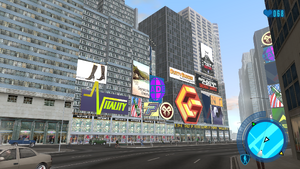 In the central island, population can be, at times, high, with many people crowding round. Multiple Doughnut Stands and food stands appear in the central island, with a metal barrier separating the two "halves" of the area, parallel to the roads themselves. On either side of Times Square are many shops and businesses, with advertisements in the windows. Above so are apartments, with billboards and news tickers surrounding the buildings. Larger billboards can also be seen above what appear to be cinemas.
One Times Square and Two Times Square bear larger billboards, as well as tickers surrounding the building. Tickers advertising Durty Burger, as well as news about the New York Police Department.
Large billboards advertising the first Assassin's Creed and Tom Clancy's Splinter Cell games, both of which published by Ubisoft as well, can be seen on the eastern side of the complex. In the 1978 era, the Atari logo can be seen, hinting towards their contributions in releasing Driver: Parallel Lines on the PlayStation 2 and Xbox. The Ubisoft Reflections logo can also be found, hinting the PC and Wii releases of the game.
Billboards
Edit
There are less billboards in 2006 than there are in 1978. It should also be noted that the billboards feel a neon touch in 1978, compared to 2006.
Panamni 
Richmond Coffee
Wilks
Motel
Four Star
Golds Beer
Tiav
Metro
Wazzo Wax
KY7
Dham
Mincers Spearmint
TV View
Photo Pick (Canon)
Mondo 
Drugs Store
Manta Perfume
Atari
Charrelle (Chanel)
Cephalonia Dreams
Vitality
KT Beer
Jade
Nir
dE
Viakin (Viacom)
Hully
Zen
Prominent Appearances in Missions
Edit
1978 Era
Nickel and Dime - T.K must flee from pursuing cops and drop off a robber. He is seen driving through back-alleys and eventually plowing through into the heart of Times Square during the first part of the mission.
Chronologically, Times Square is the first place the player visits and gains control of the character.
Community content is available under
CC-BY-SA
unless otherwise noted.