The Babyjac Prestige is a four-door sedan featured in Driver: Parallel Lines.
The Prestige is a four door saloon heavily based on the American styling of the Chrysler 300M, wherein the vehicle takes the sleek, low down and particularly wide attributes from said vehicle.
Performance
Edit
The car is similar to the Atlus, being bad for top speeds, but good for handling.
Performance Overview
Edit
General

Gears
Engine
Acceleration
(0-60 mph)
Top Speed
(mph / km/h)
4-speed manual gearbox
Petrol

Vehicle Upgrades


Stage 1


Stage 2


Stage 3


Nitro Kit

Ray's Autos Statistics

Handling
Acceleration
Speed
Variants
Edit
The Prestige Racer is a race edition of the Prestige with enhanced performance and a fitted livery. It is unlocked once a race is won in the Prestige (as long as the difficulty setting is on hard.)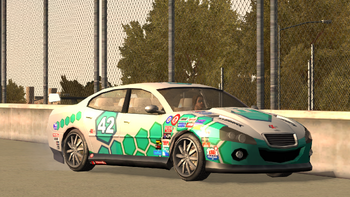 The Prestige Racer. (Rear quarter view)
Locations
Edit
1978 Era
Note: The Prestige is a 2006 Era vehicle, therefore it will not spawn in the 1978 Era naturally.
Does not spawn in the 1978 Era.
Can be seen driving around if the player has completed the game, and drives the vehicle in the 1978 Era using the Era Change feature.
Can also be done if the player uses the "all vehicles" cheat and drives the vehicle in the 1978 Era.
2006 Era
Two Prestiges can be seen during the last cutscene of The Mexican.[1]
The Prestige shares its license plate with the Cerva.
Originally, according to the game files, there was a mission that involved taking down Corrigan's security outfit, called BulletProof, and the car that was to be used is the Prestige, with Bishop's remains in the trunk. In that mission, Maria Cortez tells TK to find the car in Williamsburg, Queens, and use a ramp at the parking lot opposite BulletProof HQ, taking out the guards and getting out, leaving the car inside. [2] The mission was meant to be unlocked alongside Bear Cage and Home Wrecker, but it was cut.
References
Edit
↑ Image:


↑ mission_12_2.txt
MISSION_12_2.XMV
Community content is available under
CC-BY-SA
unless otherwise noted.