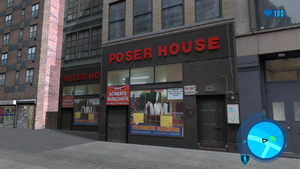 Poser House is a clothing business found across New York in Driver: Parallel Lines.
The business appears in the both eras, particularly common across Manhattan. The clothing and banners in the window mark the store as a clothing store, and the outlets always feature a banner above the left entrance, labelling the store as "The Designer Warehouse". They are advertised to sell brand names at discounted prices. The store number is always 677, as marked above the door. The store, or part of it, is also up for rent.
In general, the shops appear integrated at the bottom of larger multi story buildings, commonly around the business areas of the city. They feature a black facade with several smaller windows raised high above the doorways. Two full black doors are found at each side of the face of the building. Above the windows is "The Poser House" marked in capitals, in a bold, red font. Two of the outlets are found laid next to each other (one set further back than the other) just north of the Safe House on FDR Drive, on the right, the coast of the East River.
Community content is available under
CC-BY-SA
unless otherwise noted.