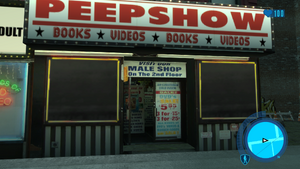 Peep Show
is pornographic video store found around
New York
in
Driver: Parallel Lines
.
The business is found around New York during the 2006 era appearing as a pornography store. It features a large banner reading "PEEP SHOW" in red letters, surrounded by stars. According to the exterior, the business sells books and videos. It also features a "male shop" on the second floor of the building. Numerous sales are advertised on the door. This building commonly appears next to Adult Video and Internet Cybercafe.
The building plays no role in the storyline whatsoever, and is inaccessible to the player.
A "peep show" can refer to an erotic or pornographic film viewed from a booth.
Community content is available under
CC-BY-SA
unless otherwise noted.