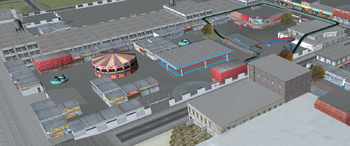 The Beach Front Theme Park is a theme park complex located on Coney Island, Brooklyn, featured in Driver: Parallel Lines.
Description
Edit
During 1978, the theme park, particularly the Blast Off area, is shown to be in a very clean state, while the general area around it takes inspirations from classic theme park rides; It features a recreation of the famous Cyclone rollercoaster, teacup rides, colorful music houses, food and games booths, and ticket dispensers. Near the Blast Off area is an L-Train station, although the player cannot board the train.
Presumably due to urban decaying and abandonment, most of the Beach Front Theme Park has changed; Several of the rides have fallen apart from poor maintenance, while the stores and booths nearby have all shut down, which is particularly seen around the Blast Off area. Litter is also commonplace around the area, meaning that the theme park has failed to be preserved or had closed sometime between the 1978 Era and 2006 Era.
The Blast Off area, as well as those around it, appears to be a popular hideout for The Mexican's gang during one such mission.
The Cyclone ride appearing the 1978 era was removed, along with the surrounding rides, such as the bumper cars ride and carousel/tent. In place, a completely separate complex serving as the grounds for the MCU Park stadium is found.
Mission Appearances
Edit
Hot Wheels - After having done errands for Slink, TK goes with him to the Beach Front Theme Park, where he is introduced to The Mexican.
The Mexican - The L-Train The Mexican uses to escape from TK arrives here, and the shootout between his gang and TK occurs in the abandoned Blast Off area.
Part of the complex, particularly the arcades and rides area, is named "Blast Off", likely a reference to the Astroland Park of Coney Island, New York, wherein "Blast Off" relates to the space shuttle.
Community content is available under
CC-BY-SA
unless otherwise noted.