The Atlus is four-door luxury sedan in Driver: Parallel Lines.
The Atlus is heavily based on the Chrysler 300C, and is a modern family cruiser. The front is a very square, boxy fascia, the lights are plainly square and large. The rear features many lights, including the brake lights, which cover nearly the entire back of the car.
The wheels are very large, nearly touching its wheel arches, they also stick out a bit. The wheels make the car look bigger and almost like a 'pimped' car.
Performance
Edit
The overall performance of the car is very much similar to the real-life Chrysler 300C. Sporting a relatively large engine and rear-wheel-drive configuration, the vehicle has better than average ability in handling and top speed, while drag slows down the car. The vehicle's drive system allows for stable handling and ample suspension room.
Performance Overview
Edit
General

Gears
Engine
Acceleration
(0-60 mph)
Top Speed
(mph / km/h)
4-speed manual gearbox
Petrol

Vehicle Upgrades


Stage 1


Stage 2


Stage 3


Nitro Kit

Ray's Autos Statistics

Handling
Acceleration
Speed
The Atlus Racer is a tuned racing variant of the Atlus assuming a red and blue design and numerous bodywork modifications. It is unlocked once the storyline is complete.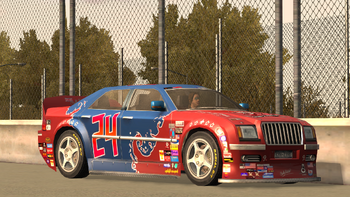 The Atlus Racer. (Rear quarter view)
Locations
Edit
1978 Era
Note: The Atlus is a 2006 Era vehicle, therefore it will not spawn in the 1978 Era naturally.
Does not spawn in the 1978 Era.
Can be seen driving around if the player has completed the game, and drives the vehicle in the 1978 Era using the Era Change feature.
Can also be done if the player uses the "all vehicles" cheat and drives the vehicle in the 1978 Era.
2006 Era
Community content is available under
CC-BY-SA
unless otherwise noted.