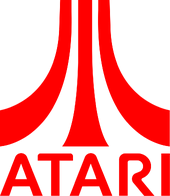 Atari SA
is a French video-games publisher founded in 1983. They have published many well-known titles, including the original
Pac-Man
,
Pong
and
Space Invaders
, as well as newer titles such as
Test Drive Unlimited
and the
Duke Nukem
series.
Atari, Inc, the American publishing team, published the original release of Driver: Parallel Lines on the Xbox and PlayStation 2, while Ubisoft published the game on the PC and Wii platforms. They released the game in North America for PlayStation 2 and Xbox on March 14, 2006, and in Europe for the PlayStation 2 on March 17, 2006 and Xbox on March 24, 2006. The PlayStation 2 was also released in Australia on March 30, 2006, and Japan on October 17, 2006.
References in Driver: Parallel LinesEdit
Large billboards advertising the first Assassin's Creed and Tom Clancy's Splinter Cell games, both of which published by Ubisoft, can be seen on the eastern side of Times Square. In the 1978 era, the Atari logo can be seen, hinting towards their contributions in releasing Driver: Parallel Lines on the PlayStation 2 and Xbox. The Ubisoft Reflections logo can also be found, hinting the PC and Wii releases of the game.
Community content is available under
CC-BY-SA
unless otherwise noted.