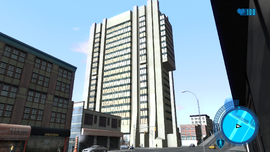 The Adam Clayton Powell Jr. State Office Building is a large office building featured in Driver: Parallel Lines.
The building is situated on within Harlem, northern Manhattan. It is only found in the 2006 era, as in the 1978 era it is a construction site. It appears as a tall building with 4 pillars on each width and 2 on each depth. On the depth of the building, expanded sections of office rooms are found. At the base of the building, shops are found, as well as a large courtyard and more shops surrounding the entire complex.
The building is inaccessible and plays no role in the storyline whatsoever.
The building's status as a construction site in 1978 is an anachronism, as in real life, the building was completed in 1974, four years before the events of the game.
Community content is available under
CC-BY-SA
unless otherwise noted.